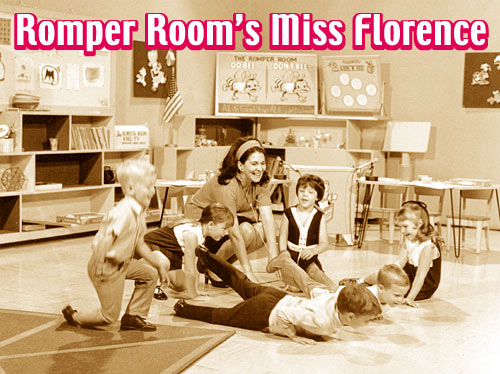 by Miss Florence
INTRO: Of all the Romper Room hostesses around the country, Spokane Washington's Miss Florence had to be one of the most successful and well-loved. After all, she had the job for almost twenty years. This was somewhat unusual as most communities that broadcast their own version of Romper Room saw a change in hostesses every few years. Miss Florence was kind enough to share some of her experiences on the program.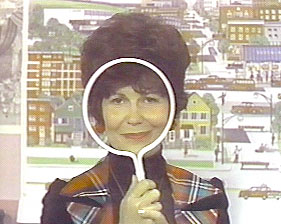 After doing Romper Room for 19 years, I certainly do have some special memories.
One incident happened on the very first show I ever did in Spokane, WA. on KREM TV. In those days, 1958, the show was live and in black and white. I was so nervous when the show began that I hardly knew what was happening. As I was doing a live commercial at my desk for a certain toy, a cute 5 year old boy came over to me, leaned his elbow on the desk and said "Mom says that stuff sticks to your clothes."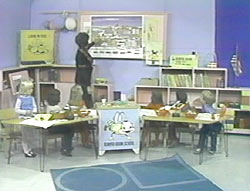 I was stunned and thrown for a loop. No one prepared me for a event like this. Somehow I kept on and then he said, "Mom says that stuff sticks to the rug too." I wasn't experienced enough to know what to say to the kid and still kept on with the commercial.
As the kid was about to give more testimonials as to what his mother thought of the product, an astute camera man finally,gently pulled the kid out of camera range as I continued on. To this day I do not remember how I talked my way out of that one. After that show the TV audience probably wondered how I ever got the job. I was wondering myself.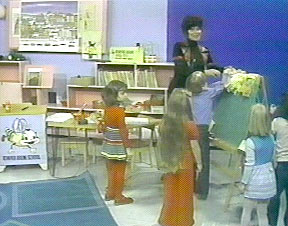 Animals, live, on the 'Animal Friends' segment always surprised and delighted me and the children... and I do mean surprised.
On one show I did, by now in color and taped at KHQ TV, a parent brought two nice pretty white rabbits. The children and I were seated on the floor around the cage. I lifted the furry creatures from the cage onto the floor so we could see them better and suddenly one rabbit jumped on top of the other one. I couldn't believe my eyes. The children giggled and thought it great fun.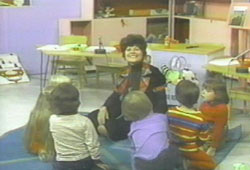 I knew that I'd better get them apart. After all, this was a children's program. So first I tried carrots. That didn't work. Then I tried to physically separate them. I was scratched and kicked for my efforts and that didn't work either.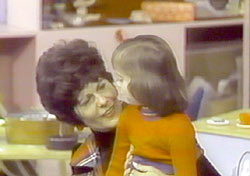 I don't know how I got through that five minutes of Animal Friends, because I couldn't stop laughing. Even the cameras were jogging up and down. After the show, I was called into the office and told, "No more rabbits, Miss Florence. No more rabbits."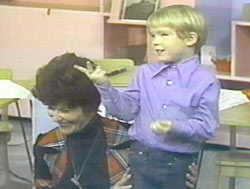 All the children were precious. On one show, a sweet looking five year old boy came onto the set holding the hand of a beautiful four year girl and said to me, "I think you should know we're in love."
I just stood there looking at them and what I saw was that indeed they were in love. I could hardly keep my eyes off of those two for the whole show. They were totally loving toward each other in every way.
From those two, I learned that love can happen at any age...even at four and five.
Since that time I've worked on a Cruise Ship as an art auctioner and also conducted a seminar called, Fine Tunning Your Life. That was great fun. For several years I sold advertising for the official Guide Book of Washington State. Am now working as an Elder Care Advisor and am very proud and excited to report that my children's book is just ready to come off the press.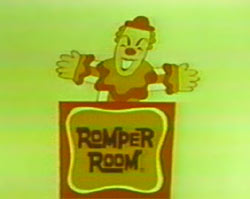 Here are some video clips from Romper Room starring Miss Florence from the 1970s:
An example of the patience it took to be a Romper Room hostess
The end of the program
with the Do Bee and the
famous 'Magic Mirror'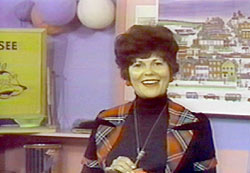 You need :



For video
it's free!

Lost Kid Shows Homepage / Shock Theater's Zacherle / Sesame Street / Andy's Gang / Sandy Becker / TV Pow! / Hilarious House of Frightenstein / The Friendly Giant / Madison's Cowboy Eddie / Who Was Doodles Weaver? / Lost Kid Show Recordings / Winky-Dink and You / Remembering Winky-Dink / Captain Kangaroo / The Old Rebel Show / The Soupy Sales Show / Walt Disney's Shows / The Magic Garden / Mad Mad Monster Party / Houston Local Kid Shows / Boston Local Kid Shows / Fabulous Sally Starr / New York City Locals / More New York City Locals / Tooter the Turtle / Crusader Rabbit / Paul Winchell and Jerry Mahoney / Alex Toth's Television Work / Diver Dan and Whirlybirds / Sonny Fox's Wonderama / The Pinky Lee Show / Bizarre Kid Shows / Chicago's Kid Shows / Chicago's Ray Rayner Show / Garfield Goose and Friends / Bob Bell's Bozo Show on WGN / Bill Jackson's Shows / Gigglesnort Hotel Memories / Bob McAllister's Wonderama / Cincinnati Local Kid Shows / More Cincinnati Locals / Make A Wish / Hot Dog / Supermarionation Puppet Shows / Philadelphia Kid Shows / Philly's Captain Noah / The Chief Halftown Show / Philly's Gene London / Bertie the Bunyip / Dickory Doc / Adam Android / LA Kid Shows / The Merry Mailman / Do Do The Kid From Outer Space / Romper Room / Romper Room Around the USA / St. Louis Kiddie Shows / Religious Kid Shows / San Francisco Local Kid Shows / Johnny Jellybean / Johnny Jupiter / Shrimpenstein / Uncle Fred Sayles / Raleigh's Uncle Paul / Shenanigans and Video Village / Pip the Piper / Thanksgiving Day Cartoon Specials of the 70s / Monster Movie Matinee / Big Blue Marble / STM Club / Popeye on TV / Cleveland Local Kid Shows / Wixie's Wonderland / Jet Jackson and Sky King / The Original Animated Hercules / Ruff & Reddy