:: Romper Room in Evansville, Indiana:

The quality of this video is not great -
video from Romper Room is extremely rare and this is all we have!
1978 / WTVW
Evansville, Indiana
Miss Annette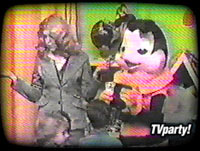 Do Bee Dance - Are you a Do Bee or a Don't Bee? Here we get to see Do Bee him(her?)self making an appearance to teach the kids about money.
Program ending - "Romper Stomper Bomper Boo, Tell me tell me tell me do, Magic Mirror tell me today, Did all my friends have fun at play?" A Magic Mirror closing for all you kids who grew up in Evansville and never heard your name. This is your last chance!