:: Romper Room in Portland, Maine:
---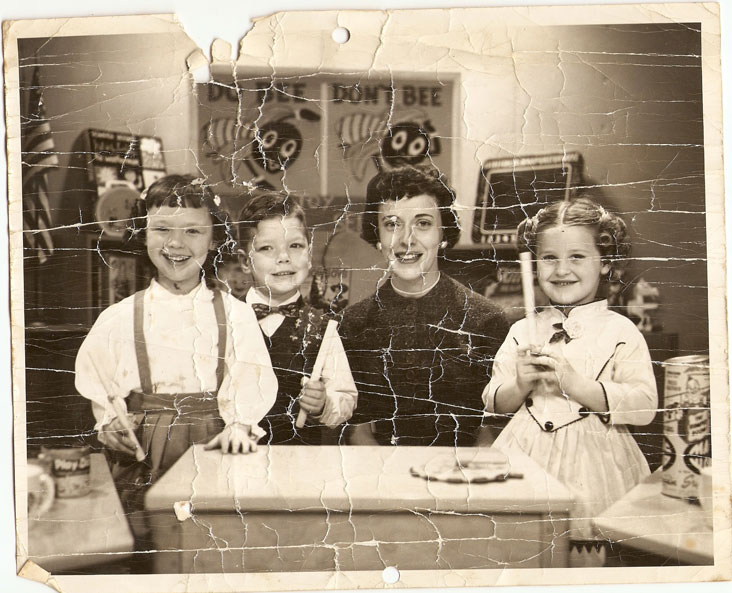 ROMPER STOMPER BOMPER BOO!
Stardancer1012 writes with this delightful artifact from Portland Maine circa 1956: I've no idea who the teacher was but I'm on the left. Sorry the picture isn't in great shape. My mother recently passed away and I've just discovered the photo.
---
"Hi There. Just discovered the wonderful site with R.R. stories and pictures.
"I was the 'teacher' at WGAN-TV, Portland , Maine from 1969 to 1975. Amazing memories of LIVE TV production and the hilarious incidents that happened in our primitive studio. Children having potty "accidents", butterflies escaping from insect hatching segments, "Safety-Chief" car collisions and many messy snack-times that demanded clean-ups during commercial breaks, etc.
"The reality behind the scenes was totally different from what was being seen (and loved) in hundreds of living rooms! It was a great time to be in TV-land and I enjoyed it all.
"I think too, of how our culture has changed. We all bowed our heads and said the prayer before snacks! We stood with hands over hearts and said the Pledge! I got more than one fan letter from families of recent immigrants who said their children were learning English and respect from participating at home. IMAGINE!
"Interestingly, my own father had known and worked for the man (Philo Farnsworth) who is credited with the "invention" of TV! Farnsworth had a laboratory in our small town in Maine, and so I had an early awareness of the possibility of airwaves bringing pictures to everyone's homes. Little did I know, however, I'd be ON TV as a young woman. Thanks Philo!
"I have a large scrapbook of photos and memorabilia of course, and will enjoy, once again, looking through it and telling stories to my 4 grand-children!
"Thanks for the great website." - Jo Harmon