:: Romper Room with Miss Jan in Pittsburgh ::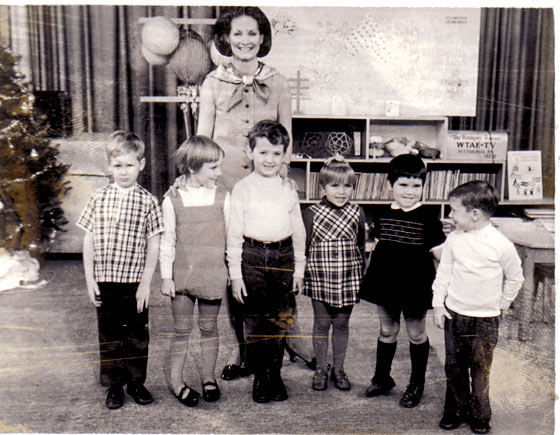 I just discovered this site about children who were on Romper Room at WTAE channel 4 in Pittsburgh and seeking photos and stories about the show. My name is Robert Harvey, though when I was on Romper Room my name was Robert Nuckels. I was on the show with "Miss Jan" sometime around December 1969 and I have fond memories of the show, though they are a little vague since I was only 5-6 at the time.

I have about 20-25 photographs from when I was on the show. I'm the kid in the yellow shirt.
| | |
| --- | --- |
| | |
| | It was clearly Christmas time from the photos and I remember going to WTAE in heavy coats but having to change clothing because the studio was hot with all the bright lights. Some photos are with me sitting at the table with the other children, others playing with Romper Stompers, etc. After the show I was given a "Graduation certificate" and I still have a hand-written letter from "Miss Jan" about a gift I gave her sometime around Valentine's Day 1970. - Rev. Robert Harvey |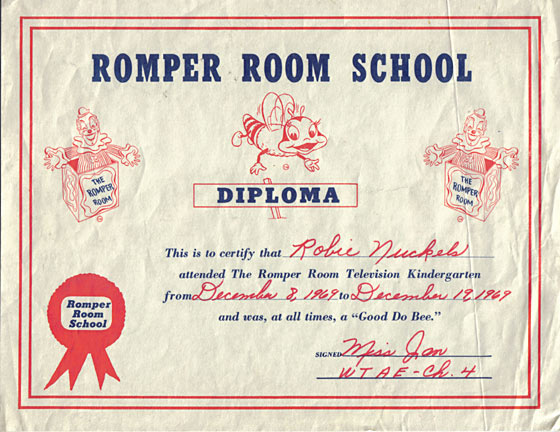 This was a postcard sent out to the kids on the show: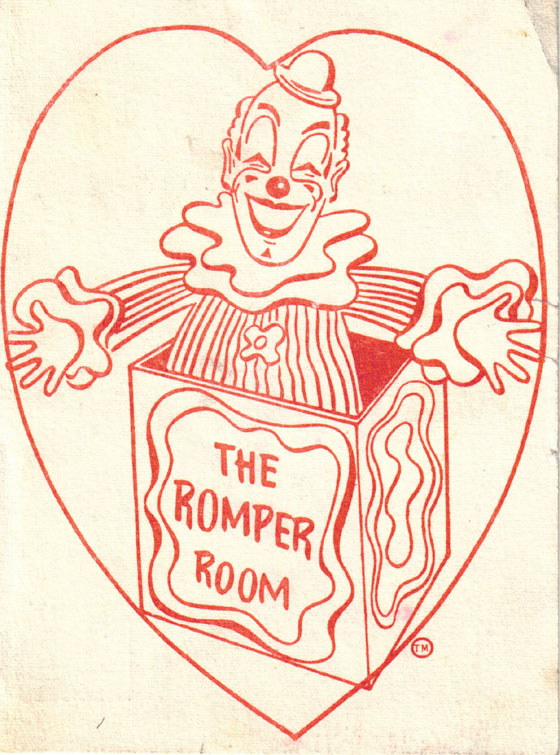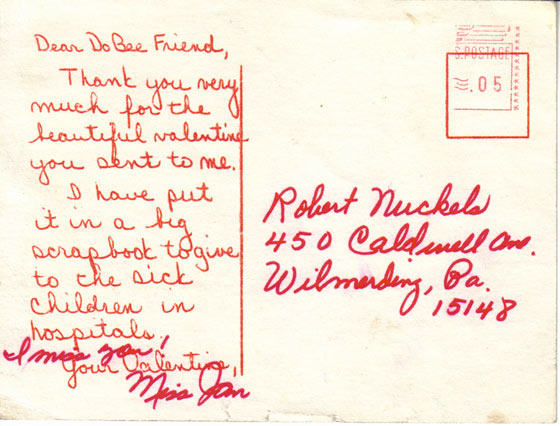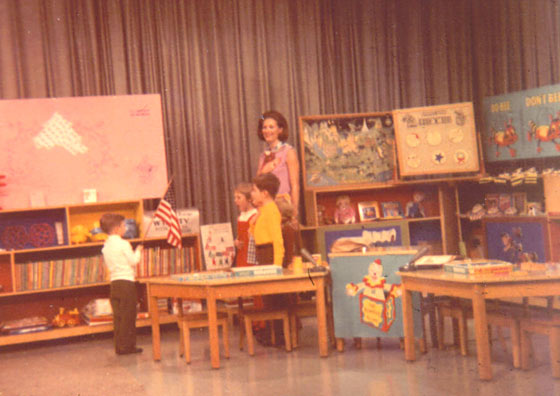 The Pledge of Allegiance was an important part of every show as was prayer before milk and cookies. Teaching core values was the key to the success of Romper Room.
---
These photos are from in April of 1970, on WTAE-TV, channel 4. Miss Jan (Bohna) passed away in 2005. I am the shy one with my head down. Still like that today.
- Ken Matyonosky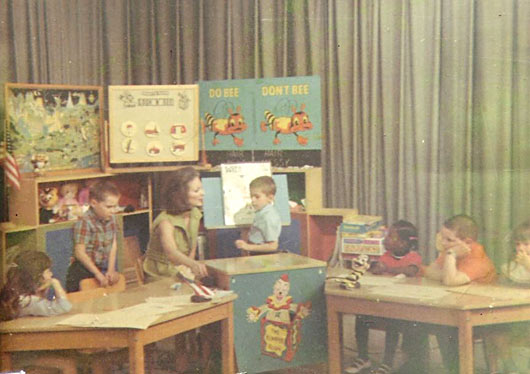 Ken is seen here under the Do Bee sign.
---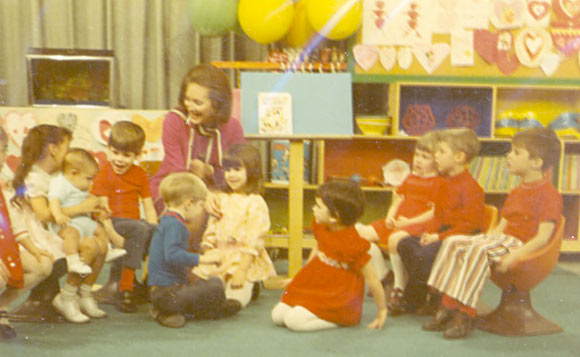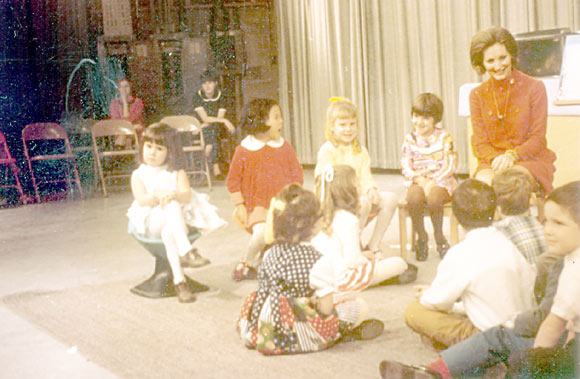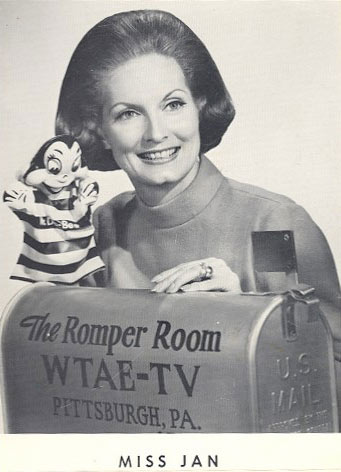 I was on Romper Room with Ms. Jan sometime in the last 60's or early 70's. I don't remember being on the show, but I still remember Ms. Jan. She was just beautiful and so sweet and I absolutely loved her.
The photos aren't dated, but I was about 5 years old, so that would be sometime in '69 or '70. I've been told, over and over, that I was "So Funny" when I was on the show and I made Ms. Jan laugh and laugh. I'm the little girl on the far left in the first picture.
That's me in the second picture kneeling in front of Ms. Jan. I get the feeling, she kept me where she could keep an eye on me. In the third photo, I'm on the far left. My mom told me I was on the show several times, and based on the different clothes, I guess that was the case.
Just by chance, I found a mention of Ms. Jan in a society page article a few years ago. I emailed the author and she passed on a Hello and Thanks to Ms. Jan. A few days later, I received a sweet thank you. Ms. Jan was a just sweet lady.

- Take care, Janine
Chances are you were on the show more than once - usually kids on the program appeared for the entire week, 5 broadcasts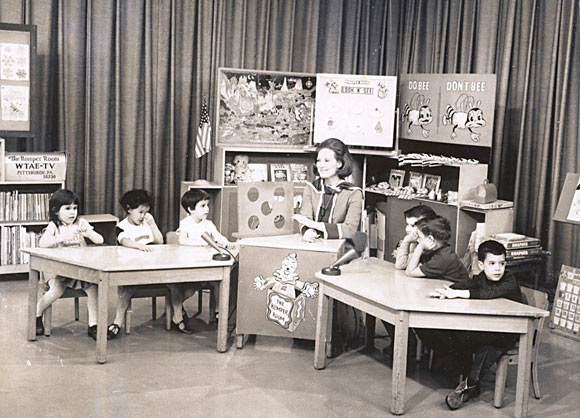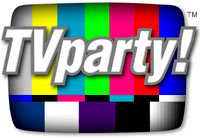 Romper Room - Pittsburgh TV shows
The memories of former
Romper Room students in Pittsburgh!
WTAE-TV, channel 4 - Miss Jan (Bohna)
Miss Jan was hostess from the
1960s until the early-'70s.
Perhaps a minor correction to your text on Miss Jan in Romper Room in Pittsburgh? Your site says she was host from the 60s thru early 70s.
I was born in '55, but didn't remember Miss Jan. I grew up with Miss Janey. Wiki led me to this.
Jan Ballard Bohna ("Miss Jan") was the first "teacher" in 1958 on WIIC-TV (later WPXI) until the program moved to WTAE in 1960, where she was replaced by "Miss Janey" Vance Braham for 10 years until her sudden death in 1969.
Bohna, who had filled in as a substitute host for Braham during the 1960s run on WTAE, took over as host until the local version ended in 1976. WTAE also carried the national version on Saturday mornings in its later years.
I guess you were on the show just after Miss Janey died, and Miss Jan took over. Anyway, just info for what it's worth.
Thanks for the site, wonderful for me and sis to reminisce by!
btw, sis and I are still looking for the Captain AstroSnack commercial with the Saturn Sweetooths. (I think they were Hostess knockoffs) Please let me know if you stumble on it! Appreciate you!
- Garry S
ShoutFactoryStore
/ Cool new web series The Hive
DO YOU HAVE FOOTAGE.
PHOTOS OR MEMORIES FROM A
ROMPER ROOM EPISODE?
HELP US PRESERVE
TV HISTORY!
---