:: Romper Room in Chicago::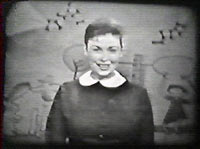 1950s
WGN Chicago, IL
Miss Rosemary Rapp
Short Promo - Romper Room began locally in Chicago in August of 1955.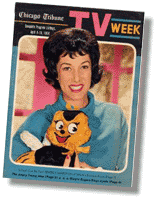 Though this is not a clip from a RR episode, it gives you some idea of what the Windy City's Romper Room hostess was like in the early days of television.
At right is a picture of Chicago's Romper Room teacher from 1964, Miss Beverly (Marston). The Romper ladies loved those helmet hairdos in the go-go era.
---
Just found this website during my search for info on RR in Chicago during the Fifties. This is the 50th anniversary of my appearance on the show. I still have my RR Diploma and Campbell Kids, "Have a Party," book signed by Miss Rosemary. I am looking for other kids or folks connected with the show in 1958 to share my stories with. Hope to hear from you soon.
Mike McGinnis
Orland Park, IL
PS. I believe that there may still be some film footage showing me on the show.