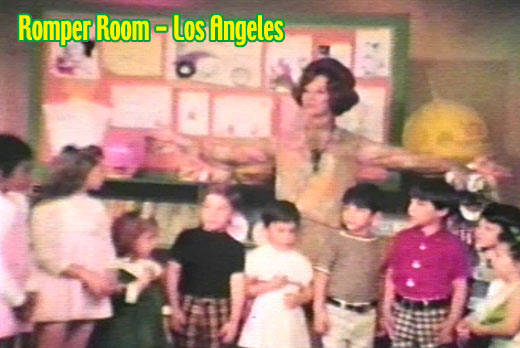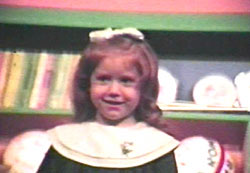 From Dr. Herschel Knapp comes this amazing footage shot on the set of Romper Room in L.A. in 1968.
The film was shot by his father, Jay J. Knapp on the occasion of his daughter Debbie's appearance on the show (she's seen at right in the green dress).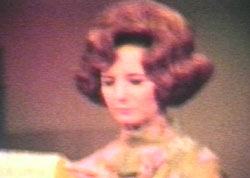 Romper Room was hosted in 1968 on KCOP channel 13 by Miss Mary Ann (King) who had the role from 1966 until 1975.
Footage from any Romper Room episode is rare, but these behind the scenes shots are super-rare. The film was shot with a Super 8mm camera (with no sound, naturally) and offers us a glimpse into the inner workings of the show.
Dr. Knapp tells us, "After the show, Ms. Mary Ann was truly charming; she posed for pictures and was gracious and patient with the children and all family members."
This may be the ONLY surviving footage from the KCOP version of the show. In it, we get to see the director and stage hands as they produce the live episode, along with Miss Mary Ann doing commercials.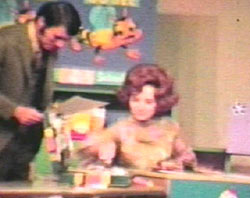 Sign of our times: sadly, Miss Mary Ann was assaulted and robbed in a parking lot in the City of Industry on December 17, 2003.
The thieves made off with nothing less than the Magic Mirror itself! The seriousness of this crime notwithstanding, what chaos can we expect now that crooks are in control of the magic mirror? The ability to see into anyone's home at will is something every criminal dreams of.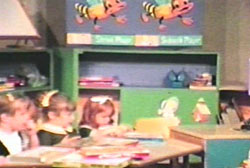 The former Romper Room hostess feared the mirror was lost forever - "I'm sure those hoodlums who did this just looked at the mirror and said, 'What in the world is this,' and just discarded it," King told the LA Times. (She wasn't seriously injured.)
Miss Mary Ann carried the Magic Mirror with her because so many former viewers walked up to her and said, "You never called out my name!" With the prop on hand, she could whip out the Magic Mirror and make their dream come true on the spot. King was president of the Puente Hills Area Chamber of Commerce at the time.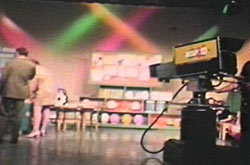 This film is a bit longer than 8 minutes, there is no sound.
WATCH THE FILM NOW
in Real Player format
WATCH THE FILM NOW
in MP4 / Quicktime format
From You Tube: Miss Mary Ann talks about her experience being mugged.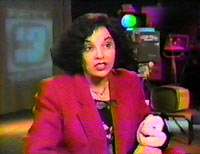 1979 / KCOP Los Angeles
Miss Soco (Socorro) Serrano
Short Clip - This clip is from an interview in the nineties, where we get a brief look at this wonderful television personality.
Here's what Ms. Serrano told TVparty: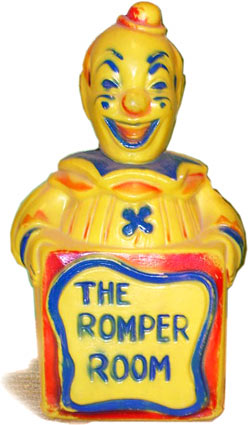 "I was the Romper Room teacher in L.A. from 1975 to 1989 on KCOP-TV. I was called Ms. Soco and I absolutely loved doing the show. Parents called or wrote in to get their kids on and I scheduled three boys and three girls for each week.
"I made sure that the kids were between 4 and 5 years old. Younger kids could not keep up with the other children and six year olds acted too cool by then. I also made sure that we had a good ethnic mix, since this was LA after all.
"Even after 12 years off the air, I still get recognized by my Romper Room graduates -- as I call them. They are now in their late twenties or early thirties. It's really wonderful when this happens because it means that I was a part of their lives and I may not have changed all that much.
"Anyway, thanks for your website. It's been fun."
- Socorro Serrano - "Ms Soco"

Here's video of Miss Soco.
---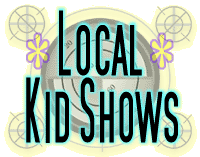 LA's LOCAL KID SHOWS
Overview of the 50s and 60s / Sheriff John / Romper Room / Chucko, the Birthday Clown / Engineer Bill / Hobo Kelly / Shrimpenstein / Baby Daphne / Skip and Woofer's Last Show / More LA Locals / 'Shotgun Tom' Kelly's Words-A-Poppin' / Billy Barty Show / Sacramento's Cap'n Mitch / Walker Edmiston / Michael Wayne Thomas

Lost Kid Shows Homepage / Shock Theater's Zacherle / Sesame Street / Andy's Gang / Sandy Becker / TV Pow! / Hilarious House of Frightenstein / The Friendly Giant / Madison's Cowboy Eddie / Who Was Doodles Weaver? / Lost Kid Show Recordings / Winky-Dink and You / Remembering Winky-Dink / Captain Kangaroo / The Old Rebel Show / The Soupy Sales Show / Walt Disney's Shows / The Magic Garden / Mad Mad Monster Party / Houston Local Kid Shows / Boston Local Kid Shows / Fabulous Sally Starr / New York City Locals / More New York City Locals / Tooter the Turtle / Crusader Rabbit / Paul Winchell and Jerry Mahoney / Alex Toth's Television Work / Diver Dan and Whirlybirds / Sonny Fox's Wonderama / The Pinky Lee Show / Bizarre Kid Shows / Chicago's Kid Shows / Chicago's Ray Rayner Show / Garfield Goose and Friends / Bob Bell's Bozo Show on WGN / Bill Jackson's Shows / Gigglesnort Hotel Memories / Bob McAllister's Wonderama / Cincinnati Local Kid Shows / More Cincinnati Locals / Make A Wish / Hot Dog / Supermarionation Puppet Shows / Philadelphia Kid Shows / Philly's Captain Noah / The Chief Halftown Show / Philly's Gene London / Bertie the Bunyip / Dickory Doc / Adam Android / LA Kid Shows / The Merry Mailman / Do Do The Kid From Outer Space / Romper Room / Romper Room Around the USA / St. Louis Kiddie Shows / Religious Kid Shows / San Francisco Local Kid Shows / Johnny Jellybean / Johnny Jupiter / Shrimpenstein / Uncle Fred Sayles / Raleigh's Uncle Paul / Shenanigans and Video Village / Pip the Piper / Thanksgiving Day Cartoon Specials of the 70s / Monster Movie Matinee / Big Blue Marble / STM Club / Popeye on TV / Cleveland Local Kid Shows / Wixie's Wonderland / Jet Jackson and Sky King / The Original Animated Hercules / Ruff & Reddy