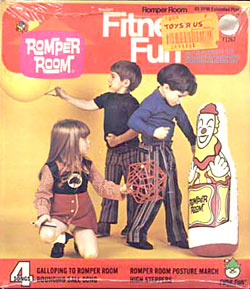 Romper Room's Miss Lois
- Chesterfield, MO
Sam Sanders writes:
RADIO-97.1 FM Talk's Allman and Crane (morning show) had Miss Lois (Chesterfield, MO) on Friday, August 31. Talk about rockin' people's worlds. The show had all kinds of callers reminiscing about the 12 years Miss Lois spent on Channel 2 doing her show.
She talked about how she left the show briefly to have a baby just 6 months into the show and then coming back and answering a kid's question about the baby. She said she has done many things professionally since then.
She moved out of town but now lives somewhere in Illinois. Apparently, a friend of a relative of Jamie Allman knows Miss Lois. He even said on the air (being 44 years old) that when he had the opportunity to get Miss Lois as a guest, he about lost his mind. There were so many kids that watched this one person and now he gets to meet her???
Miss Lois (sorry did not know the last name) was very gracious and patient with callers and was thrilled to hear back from everyone after all these years. This will not be the last you hear from her, I guarantee.
Download the Romper Room tunes you loved!
---

Lost Kid Shows Homepage / Shock Theater's Zacherle / Sesame Street / Andy's Gang / Sandy Becker / TV Pow! / Hilarious House of Frightenstein / The Friendly Giant / Madison's Cowboy Eddie / Who Was Doodles Weaver? / Lost Kid Show Recordings / Winky-Dink and You / Remembering Winky-Dink / Captain Kangaroo / The Old Rebel Show / The Soupy Sales Show / Walt Disney's Shows / The Magic Garden / Mad Mad Monster Party / Houston Local Kid Shows / Boston Local Kid Shows / Fabulous Sally Starr / New York City Locals / More New York City Locals / Tooter the Turtle / Crusader Rabbit / Paul Winchell and Jerry Mahoney / Alex Toth's Television Work / Diver Dan and Whirlybirds / Sonny Fox's Wonderama / The Pinky Lee Show / Bizarre Kid Shows / Chicago's Kid Shows / Chicago's Ray Rayner Show / Garfield Goose and Friends / Bob Bell's Bozo Show on WGN / Bill Jackson's Shows / Gigglesnort Hotel Memories / Bob McAllister's Wonderama / Cincinnati Local Kid Shows / More Cincinnati Locals / Make A Wish / Hot Dog / Supermarionation Puppet Shows / Philadelphia Kid Shows / Philly's Captain Noah / The Chief Halftown Show / Philly's Gene London / Bertie the Bunyip / Dickory Doc / Adam Android / LA Kid Shows / The Merry Mailman / Do Do The Kid From Outer Space / Romper Room / Romper Room Around the USA / St. Louis Kiddie Shows / Religious Kid Shows / San Francisco Local Kid Shows / Johnny Jellybean / Johnny Jupiter / Shrimpenstein / Uncle Fred Sayles / Raleigh's Uncle Paul / Shenanigans and Video Village / Pip the Piper / Thanksgiving Day Cartoon Specials of the 70s / Monster Movie Matinee / Big Blue Marble / STM Club / Popeye on TV / Cleveland Local Kid Shows / Wixie's Wonderland / Jet Jackson and Sky King / The Original Animated Hercules / Ruff & Reddy