The Sarah Silverman Program Season 3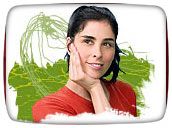 The Sarah Silverman Program returns to Comedy Central on Wednesday, October 8th with two very funny episodes. In the first episode, Sarah smokes pot for the first time and is faced with the kind of life changing revelations that come with a new-found "shredded mini weeds" perspective.
After one of the most vulgar scenes you'll ever see in any sitcom, a clear signal that this show will not be tamed, Sarah and Brian set out to right the wrongs of the world by taking on a corporation run by the always amusing Gary Marshall.
The next night there's another new episode where Sarah confronts the Mongolian community in a thoroughly offensive but hilarious episode sure to leave more than a few audience members picking their jaws up off the floor over the unmitigated gall involved in bringing this program to life.
The third season of The Sarah Silverman Program is off to a great start.
The Sarah Silverman Program airs Wednesday and Thursday nights at 10:30pm on Comedy Central.
---