Prison Break Season 4

Welcome to the new Prison Break coming September first - or as I like to call it now, Michael Scofield, Secret Agent.
I can only think of a handful of shows I've enjoyed more than Prison Break, after three utterly amazing seasons the series bursts out of it's confines with a two-parter that unveils a new concept - and the results are mixed.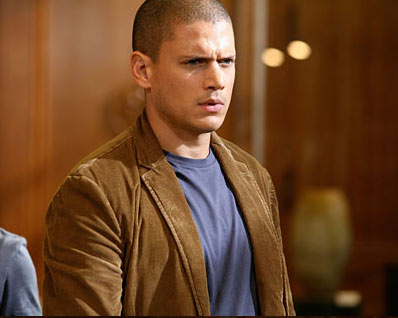 As always on Prison Break, revenge and self-preservation provide the motivation for moving forward, only now the setting is Los Angeles where everyone's breaking into, not out of, places.
As the first episode of season 4 opens, all of our protagonists are out of Soma prison. T-Bag is on the run with a satchel full of cash and an overwhelming desire to kill Michael. Bellick and Sucre are sprung thanks to a fire, Link and that annoying kid LJ are content to remain in Panama while an angry Michael traveling to the states (where he is no longer a fugitive, if you'll remember) to seek vengeance on Gretchen for killing his true love Dr. Sara Tancredi.
Turns out Sara's not really dead. I don't feel I'm giving much away by telling you that since it's made clear in the first five minutes and I never believed it was her head in the box to begin with.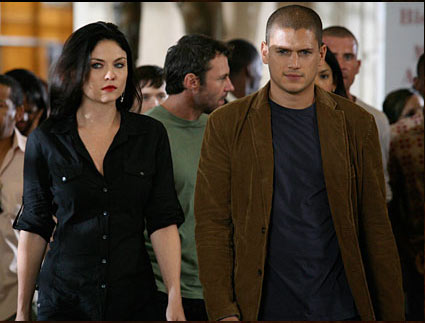 The threat of prison once again traps Michael and his brother into an unholy alliance, this time working for the U.S. government to take down The Company and here's where logic flies right out the window. You're not going to believe the team they assemble to carry out this formidable task - Sara, Sucre, Link's mortal enemy former FBI agent Mahone, and Bellick, the sniveling, back-stabbing former prison guard who made so much trouble for them in two different joints. Michael allows Bellick on the team because, "Sucre vouched for you," completely ignoring their long, tortured, messy history together.
This makes little sense, of course, but it gives the producers ample opportunity to revive old tensions and still move the show in a radically different direction. At least they left perpetual kidnap victim LJ at home.
The first episode of season four is all exposition so it's a good thing a second hour follows where a gratuitous Greek mythology reference is revealed and T-Bag is given a radical new lease on life after eating some "bad Mexican." Sadly, these first two episodes don't come close to the kind of excitement one expects from Prison Break but the possibility exists for improvement.
There are some welcome additions to the cast, especially Cress Williams as a fierce, cold-blooded operative out to stop our heroes at any cost and James Hiroyuki Liao as a criminally inclined whiz kid forced on the team.
Now that Prison Break has become The A-Team will viewers follow along?
---