DO NOT DISTURB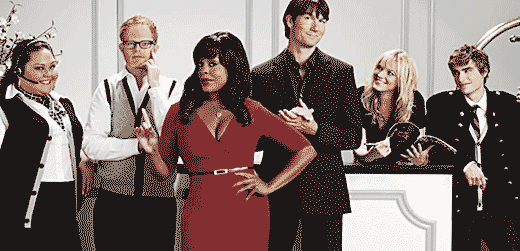 Is Fox capable of mounting a decent sitcom anymore? How long has it been since they've launched a comedy that the audience responded to? Arrested Development in 2003 perhaps, but tune in was light, the critics kept that one alive. We're a long way away from the network's salad days of Married With Children, The Simpsons, Herman's Head, Get A Life, and That '70s Show.
Last year's Back To You did OK and might have made it to a second season if the production hadn't been so top heavy with expensive stars. Fox won't have that problem this time around, Do Not Disturb comes from Back To You producer Abraham Higginbotham but this new production is loaded down with unknowns.
The series focuses on Rhonda, played by the wonderful Niecy Nash (Reno 911), the HR director of a snazzy New York City hotel and her wacky - but loveable, they have to be loveable - co-workers.
It's a claustrophobic show, thoroughly predictable, banally written; the pilot for Do Not Disturb percolates with been there done that. It's a multicultural rainbow of stereotypes with no payoff, saved only by Nash's ability make any tired line or worn out scenario seem fresh.
Writer / producer Higginbotham was a producer for Will & Grace and Arrested Development, if you enjoyed those series (I didn't) you may find this one easy on the eyes. As you might guess, there is a prominent gay presence in this ensemble - a silly, feckless character, of course - but then almost every 'type' is represented: the clueless blonde, the shallow lothario, the sassy black girl, the wise overweight chick, you get the idea...
Far too broad and over-the-top, Do Not Disturb is all snap, crackle and no pop. What is does have is plenty of potential, the cast is a talented group and the premise is loose enough to accommodate almost any situation. You can't always judge a series by the first show alone.
This show could end up being the hit Fox is looking for. There is probably enough lowest common denominator appeal to put this one in the winner's circle. After all, if the grotesquely unfunny lead in 'Til Death can draw enough viewers to get renewed the bar can't be set that high.
Do Not Disturb airs Wednesday night, September 10th at 9:30 ET/PT on Fox.