NEW SHOW REVIEW - FRINGE

This highly anticipated show is the only new scripted drama coming to primetime this fall other than the revamped Beverly Hills 90210 and I don't know anyone other than has been teen stars who are looking forward to that.
For Fringe, co-creator and co-writer J.J. Abrams (Lost and the upcoming Star Trek film) takes us back to a familiar location to jumpstart the series - onboard an airliner flying into unmitigated disaster. A joint task force looking into incidents of terror stumble into a nightmare of a virus that melts its victims - can the team discover what it is and stop its spread? How is this incident and other unexplained phenomena related?
It's the X-Files meets CSI meets House; a creepy, exhilarating, live wire that sizzles with potential, a conspiratorial whirlwind that promises to keep you guessing at every twist and turn.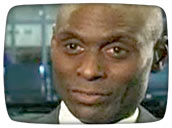 The cast is a strong one. Anna Torv is stellar as Agent Olivia Dunham while Lance Reddick (Lt. Daniels on The Wire) is rock solid as the team's stoic commander, good to see him back in the saddle.
The opening sequence is a real shocker sure to lure you in. While this pilot episode doesn't quite meet the intensity of the first episode of Lost, there's a world of trippy concepts introduced with loads of action, not to mention one of the most amazing car chase sequenses I can remember.
This spine chilling thriller deserves a look and could develop into a real zinger depending on where they go with this open-ended concept.
Fringe airs Tuesday nights at 8:00 beginning September 9th on FOX. Here's a preview.
---