Real Vice Cops Uncut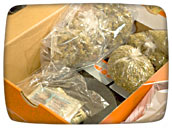 Cop shows have been a TV staple since the beginning of the medium. Over the decades television crime programs became progressively more realistic and gritty until technology allowed producers to put the cameras directly in the police cars and out on the street with law enforcement. That's when Cops was born and the public's fascination with real life crime fighting hasn't lessened at all in the last twenty years.
Now comes Real Vice Cops Uncut - it's Cops on steroids, a steady barrage of shady suspects and fleeing fugitives brought down hard and fast by pumped up, well-armed Southern sheriffs.
Hidden camera drug buys and prostitute stings is a no-brainer for TV producers, who's going to feel sorry for people peddling addiction and disease in neighborhood? The fact that these perps are for the most part the lowest of the low level dealers makes it a little less exciting - and crucial - than it would be if they were going after bigger fish.
You'll follow in the footsteps of vice cops as they toss suspect homes, hoovering up everything of value along the way, gleefully driving off with the cars and the cash, leaving behind smashed furnishings, bewildered infants and sobbing baby mamas. Oh, and a front door that needs to be fixed.
One question - have you noticed the blur used for faces lately is so light these days that you could easily recognize the suspect if you knew them?
From the press release: The Shelby County Sheriffs Department in Memphis and the Metropolitan Bureau of Investigation in Orlando bring you the series Real Vice Cops Uncut. The show follows these local police agencies as they serve and protect civilians from criminals involved in vice crimes such as narcotics, prostitution and gambling. Be there from the preparation to the execution, and ultimately, the arrest of hardened criminals.
So what if the Caddies confiscated in the first episode looked more valuable than the drugs the cop's seized? Real Vice Cops Uncut is a rapid fire bombardment full of sound and fury, signifying the end of the line for the bottom feeding lowlifes who hit the pavement hard for our evening's entertainment. Looks like Spike has a winner with this one.
Real Vice Cops Uncut premieres with back to back episodes Wednesday, August 6th at 10:00 pm ET/PT on Spike TV.
---