Thank You Mr. President
Helen Thomas At The White House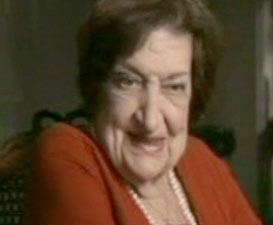 A fascinating albeit brief look at the first lady of the White House press corps, Helen Thomas.
Story
To anyone that follows US politics; Helen Thomas is a name synonymous with political news. Born in Detroit in 1920 to immigrant parents, Helen Thomas worked her whole life to a journalist position with United Press International (UPI) in 1943. From there, she found her way in the official press corps covering the White House starting with President Kennedy. Thomas has remained there to this day covering every single president up to our current President Bush.
In this retrospective documentary, director Rory Kennedy takes us through history with the woman herself. Over the course of 40 minutes, Thomas tells stories from her days first starting with President Kennedy to the present. Also shared along the way are some of her always amusing anecdotes about presidents of the past and what role she feels the current press corps has played in getting us to where we are now.
Good and the Bad
As an avid fan of US politics, I hold a great level of respect for Helen Thomas as a journalist. With four decades worth of experience in the White House press corps, hers is the voice that many have grown up with and learn to rely on for their political news. So it will be absolutely no surprise to anyone when someone tunes into this program and gets to hear the woman herself talk about what it was like to cover such presidents from history such as Kennedy, Nixon, Johnson, Reagan, both President Bushs and Clinton.
With all of these stories though, director Rory Kennedy was in a real pinch. With the documentary spanning only 40 minutes, Kennedy faced a real challenge with capturing the best of each decade within a span of a few minutes each. Fortunately, Kennedy manages to accomplish this for the most part. The first act of this feature is paced very well and spends quite a bit of time with Thomas as she talks about her early climb into her career. From there the feature moves seamlessly into her coverage of such historic events such as Watergate and the Iran-Contra scandal that broke out during the Reagan administration.
Due to this though, the second half of the feature tends to suffer quite dramatically. In the second act, the story moves more towards her sudden departure from UPI and becoming a famous columnist. While this aspect of her career is just as interesting as her early career highlights, far fewer issues from the last two decades of her career got the same coverage as earlier ones. Some issues touched upon by Thomas in her recollections include the Monica Lewinsky scandal of the Clinton administration and her thoughts on the current Iraq war but it's hard not to feel a little letdown by the lack of coverage from more recent political times.
Overall
Despite the pacing of the feature losing its steam and focus around the second half, this is still a worthy feature for the legendary journalist. Anyone who is interested in US politics should check this one out for some fun stories from the woman who has forgotten more news than most of us will ever live to see.
Final Grade: B+
---
---