ANIMATION DOMINATION RETURNS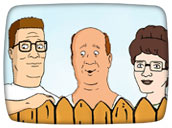 For a huge number of people, Sunday night on FOX is the most anticipated evening of network programming, it's practically a generational tradition after more than a decade of animation domination; that continues on Sunday, September 28th with the return of The Simpsons, King Of The Hill, Family Guy, and American Dad.
A riotous booze free St. Patrick's Day (what a concept!) on The Simpsons somehow inspires Homer to become a bounty hunter ala Dog while Marge goes to work for an erotic bakery which leads to one of Homer's funniest lines ever. I won't spoil it for you.
After 19 seasons, I'm not sure The Simpsons is as good as it was a few years ago, though it's hard to judge based on just one episode. There are laughs to be had but characters' personas are being stretched considerably, the situations are more silly than satirical. Why Flanders as a partner for Homer the Bounty Hunter? It's not logical or ultimately funny. It seems The Simpsons has become more like its doppelganger Family Guy with too many easy-laugh, throw-away gags.
King of the Hill returns for a 13th season after an amazingly consistent run of fresh, original situation comedies that have held up well over the years. This may be the most realistic animated show of all time, a blunt blend of intelligence and grit, a cartoon but not cartoony world where modern sensibilities clash with southern ideals without insulting anyone needlessly. That's quite an accomplishment and part of what makes King of the Hill one of television's finest accomplishments. This week Bill's diabetes confines him to a wheelchair where he discovers unconditional acceptance for the first time in his life.
I never thought I'd say it but Family Guy is actually funnier than The Simpsons, at least based on this fall's first episode. I've never cared for Family Guy but I have to admit laughing several times throughout an episode that has Brian courting the girl of his dreams only to lose her to Cleveland.
Capping off the night is American Dad which I can't bear to watch. So I didn't. The worst character designs for any animated program ever?
---