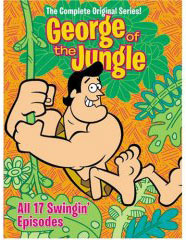 George of the Jungle Format: Animated, Color, DVD-Video, Full Screen, NTSC
Language: English
Region: All Regions
Aspect Ratio: 1.33:1
Number of discs: 2
Rating: 5 stars
Studio: Classic Media
DVD Release Date: February 12, 2008
Run Time: 374 minutes
In 1997, George of the Jungle was adapted into a live action film starring Brendan Fraser.
---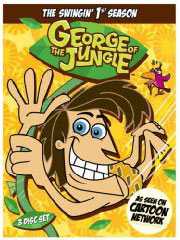 George of the Jungle - Swinging 1st Season
One of the greatest cartoons created for television in the 1960s was George of the Jungle from the folks who brought us Bullwinkle. George was funny and smart in the Jay Ward Productions' tradition but lasted only one season of new episodes.
Now George of the Jungle is back in a new production headed by Jay Ward's daughter for Comedy Central's new nighttime schedule for kids. I just watched the first two episodes which debut beginning next Friday night.
Of course, everything's been pleasingly redesigned to fit the modern sensibility (John K. changed everything, didn't he?) while the iconic theme song remains - with minor changes. It's wacky and weird like the original, but kids today are used to what was considered cutting edge 41 years ago - audience asides, random pop culture references - so the new George and his animal cohorts are more extreme in their behavior while the storylines are more straightforward.