Reviews of the newest DVD collections
of your favorite classic TV shows!
Click on the title to order - huge discounts and free shipping through Amazon.com!

---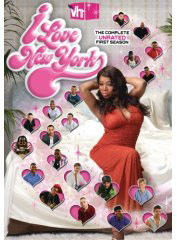 I Love New York
Take one trashy, egotistical girl (a self-proclaimed "crazy ass bitch"), her impossibly domineering mother and 20 sketchy guys scraped off the sidewalks vying for the young lady's affections and you've got the incendiary 'reality' show sensation I Love New York.
Far out and funny as hell, I Love New York is a spin-off of VH1's Flavor of Love, one of the most watchable reality shows to come along in a long time.
From the product description: The most memorable character from Flavor of Love is leaving the spitfests, catfights and heartbreaks behind. New York is moving on and still looking for love. But this time, she's standing on the other side of the clock, 'cause VH1 and the producers of Flavor of Love have given the sassy siren her own show, her own mansion and 20 guys to choose from. But she's not going it alone. New York and her mom, Sister Patterson, put these men through the paces - testing them on everything from physical prowess, to "daddying" skills, to earning potential and more. In the end, the man with the most love for New York could just walk away with her heart.
I liked this one very much, it's a guilty pleasure even if I didn't much care for the participants. Ridiculous from start to finish, I Love New York is a compelling train wreck of a show with about as much class as pissing in the pool.
The N.Y. Times said about I Love New York, "Seen through her eyes the swaggerers are definitely more sexy and more fun. And seeing through New York's eyes is surprisingly easy. Her way of talking, especially when she's not in the fullest feather of cuckoo narcissism, is so brazenly inflected and jammed with unexpected insights that it makes every woman who's ever appeared on The Bachelor and The Bachelorette look barely sentient."
Straight-up thugs, Uggs sportin' muggs, and dangerous Dougs - you just can't believe these supercilious, messed up cons and clowns but can't stop watching because of the volcanic nature of the people involved. Where do they dig these embarrassing miscreants up? I'm guessing at a late night bail bondsman or the drunk tank.
Some of the conversating can get violent, vulgar and confrontational while much of the time New York looks like she's not just drunk but cracked up; at various points, especially late at night, she can barely speak. This DVD set is the unrated version so there are no annoying beeps over the ubiquitous curse words.
This series is incredibly contrived, tightly scripted and fiercely edited to the extent a show like this must be; and it's all played out on the tackiest set ever created for a TV show. Yet somehow it works. It's down right addictive despite - or maybe because - it's so unbelievably garishly ghetto. And at the end of the series there's a bonafide shocking pay off, at least in 'reality' TV terms.
Hold on Playa - are ya fillin' me? This is one hot DVD collection, hours of entertainment - less than $30.00 if you order online now, that's 25% off.
---
TV on DVD Reviews:
---
FEATURED TV DVDs: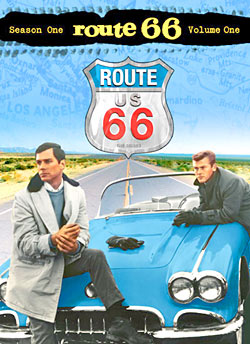 Route 66 -
Season One Volume 1
Martin Milner (Tod Stiles) and George Maharis (Buz Murdock) star in this classic television drama about a couple of young guys who set out to see America in a brand new 1961 Corvette drop top.
What makes this show truly unique is that it was filmed in a different U.S. city each week, giving us a stark glance at what living in America looked like in 1960. It was a vastly different landscape, people lived a lot closer to the dirt back then. (I'll bet that decrepit New Orleans dock in episode three is a multi-million dollar condo development if it wasn't washed away by the levy failure.)
No television show had ever attempted anything on this grand a scale before, the technology necessary to make mobile TV production a practical enterprise had just been made available.
Read the entire review of Route 66 on DVD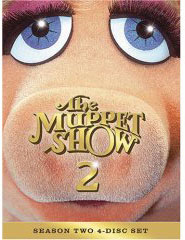 The Muppet Show - The Complete Second Season
The last of the classic variety shows and one of the finest TV programs of all time, The Muppet Show Season 2 is an unrestrained delight from start to finish. This amazing production lit up the screens when it debuted in 1976 and the second season may be the best of the series' run.
The sing-alongable theme song. The incredible guest stars. The crazy costumes. Pigs in space. The crabby guys in the balcony. The love / hate relationship between Piggy and Kermit. All here to relive or experience for the first time. If you are encountering The Muppet Show for the first time, what a treat you're in for; if you watched the show as a youngster you may find yourself uncontrollably singing along with the bizarrely choreographed Tin Pan Alley tunes.
No question, this is Muppet-mania at its peak, before the many hit movies and Muppets on Ice diluted the product. How wonderful to see the delightful Edgar Bergen & Charlie McCarthy and Miss Piggy trading barbs that could have come right out of radio. (In fact, some of the jokes do harken from Bergen's radio days.)