TV shows on DVD Reviews - New & Classic TV Titles!
(Click on the titles to order - huge discounts
and free shipping through Amazon.com!
---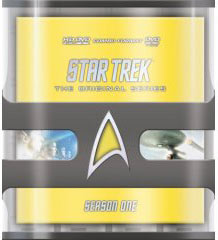 Star Trek The Original Series - The Complete First Season (Combo HD DVD and Standard DVD)
Paramount is one again releasing the first season of the original Star Trek on DVD; if you waited to buy this one hold out no longer - you're in for a treat with this massive package.
The most spectacular aspect of this new collection? The shows are dual recorded to play on standard DVD players as well as HD DVD players. Better yet, the standard DVD version looks even better than previous DVD releases so you can imagine how spectacular the series looks in HD. It's like watching them for the first time, the colors pop and the sound surrounds you.
This is sure to be a best seller this holiday season and with good reason - it's an incredible leap forward for fans of this venerable sci-fi classic. Star Trek really sparkles in this format and is eye-poppingly stunning in HD. The clarity does point out how flimsy some of the sets and monsters were but there's not much that can be done about that, besides that's the underlying fun of Star Trek.
You get all 29 episodes of what was arguably the best of the three seasons in their original broadcast order. These episodes have not only been beautifully remastered from the original negatives but they've been digitally enhanced as well with new, more realistic special effects, most noticably in scenes of the Enterprise in orbit. The result is a much more fully realized experience, not obtrusive to distract from what you remember but just enough to add new shades to a familiar palette. Very satisfying.
Since the theme song only existed in mono it was painstakingly rerecorded by an orchestra in stereo for this new version; even the Shatner intro "To Boldly go..." has been remastered - though thankfully not rerecorded.
If that wasn't enough this DVD collection comes with a plethora of bonus features no Star Trek lover will want to miss, both on the DVD and HD-DVD sides - including some insightful 2003-04 interviews with cast members, producers, and (in 1988 footage) Gene Roddenberry.
The 10 discs come in individual sleeves which is nice but the paper sleeve that holds them all together rather flimsy. It's all encased in an attractive, substantial, high-tech looking plastic box.
This ultimate Star Trek experience is a bit pricey at $194.99 SRP but Amazon has this for 32% off - only $132.99. If there's a Trekkie in your life, especially if they just upgraded to HD or plan to, this would make an awesome gift.
---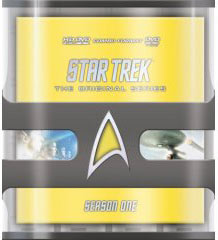 Product Description:
From Paramount Home Video! The complete first season of Star Trek: The Original Series is now available in HD-DVD/DVD Hybrid disks! This set contains all 29 episodes - in airdate order - from Season One of the original Star Trek series, along with newly produced bonus features exclusive to this DVD release.Tagline: Boldly Go. Again.

Plot Outline: Capt. Kirk and the crew of the Starship Enterprise explore space and defend the United Federation of Planets.

Plot Synopsis: The adventures of the U.S.S. Enterprise, representing the United Federation of Planets on a five-year mission in outer space to explore new worlds, seek new life and new civilizations, and to boldly go where no man has gone before. The Enterprise is commanded by handsome and brash Captain James T. Kirk. His First Officer and best friend is Mr. Spock from the planet Vulcan, and Kirk's Medical Officer is Dr. McCoy. With its crew of approximately 430, the Enterprise battles aliens, megalomanical computers, time paradoxes, psychotic murderers, and even Genghis Khan!

Studio: Paramount Home Video
DVD Release Date: November 20, 2007
Run Time: 1460 minutes
---
Classic TV DVD Reviews:
---
FEATURED TV DVDs: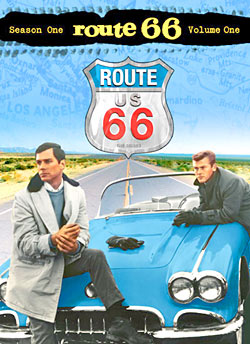 Route 66 -
Season One Volume 1
Martin Milner (Tod Stiles) and George Maharis (Buz Murdock) star in this classic television drama about a couple of young guys who set out to see America in a brand new 1961 Corvette drop top.
What makes this show truly unique is that it was filmed in a different U.S. city each week, giving us a stark glance at what living in America looked like in 1960. It was a vastly different landscape, people lived a lot closer to the dirt back then. (I'll bet that decrepit New Orleans dock in episode three is a multi-million dollar condo development if it wasn't washed away by the levy failure.)
No television show had ever attempted anything on this grand a scale before, the technology necessary to make mobile TV production a practical enterprise had just been made available.
Read the entire review of Route 66 on DVD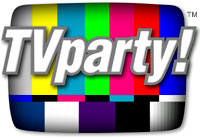 TVparty is Classic TV!
Star Trek on Blu-Ray Review
Star Trek on DVD Review
Star Trek Next Generation on DVD Review
Star Trek movies on DVD Review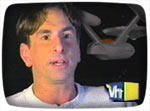 Reviews by
Billy Ingram,

as seen on
VH1, Trio
and
Bravo.
---




Carol Burnett Show on DVD
| | |
| --- | --- |
| FEATURES YOU MIGHT ENJOY: | |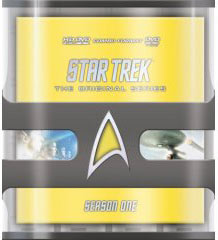 Description:
Going boldly where no man had gone before, Gene Roddenberry's cult phenomenon STAR TREK debuted in 1966 and reflected that decade's optimistic preoccupation with space travel. Set in the 23rd century, the series chronicled the intergalactic adventures of the U.S.S. Enterprise on its five-year mission to explore the outer reaches of space. Encountering a now-iconic assembly of innovative alien life forms such as the Klingons, Romulans, Tribbles, and Khan Noonian Singh, the ship's jumpsuited crew was a then unheard-of font of multiculturism: Asian Sulu (George Takei), African-American Uhura (Nichelle Nichols), and Scotsman Montgomery Scott (James Doohan). But it was the contrasting personalities of cooly logical Vulcan Mr. Spock (Leonard Nimoy), emotionally intuitive medical officer Leonard "Bones" McCoy (DeForest Kelley), and womanizing ship captain James T. Kirk (William Shatner in definitive overacting mode) that lent the series much of its charm--and spawned a rabid cult following.

Bonus features on
the HD DVD side:
Starfleet Access - On-screen graphical interface allows viewers to access Picture in Picture video commentaries, comparisons of re-mastered vs. original effects, encyclopedic information (science, life forms, technology), episode trivia and more on the following episodes: 1. Where No Man Has Gone Before 2. The Menagerie, Part 1 3. The Menagerie, Part 2 4. Balance of Terror 5. The Galileo Seven 6. Space Seed 7. Errand of Mercy
Spacelift: Transporting Trek into the 21st Century
From new visual effects to sound, this documentary provides an in-depth exploration of the remastering of classic Star Trek episodes.
Billy Blackburn's Treasure Chest: Rare Home Movies and Special Memories Join crew member and "extra-extraordinaire" Billy Blackburn as he shares his own behind-the-scenes home movie footage of life on the set of Star Trek.
Interactive Enterprise Tour
Viewers will explore the Enterprise interior and exterior in detail as they pilot their own shuttlecraft in this spectacular 3D simulated feature.
Perpetual Entertainment's "Star Trek Online" MMO Game Preview

Bonus features on the
standard DVD side:
Spacelift: Transporting Trek into the 21st Century
The Birth of a Timeless Legacy
Reflections on Spock
Life Beyond Trek: William Shatner
To Boldly Go...Season One
Sci-Fi Visionaries
Billy Blackburn's Treasure Chest: Rare Home Movies and Special Memories
Kiss & Tell: Romance in the 24th Century
Trek Connections
Star Trek: Beyond the Final Frontier
Episode Preview Trailers
Perpetual Entertainment's "Star Trek Online" MMO Game Preview
TV Shows on DVD
Holiday Specials on DVD
TV Commercials on DVD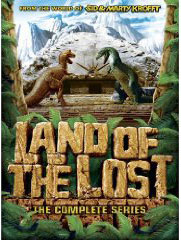 Amazon Prime - unlimited streaming
of your fave TV shows and movies!
Get your FREE 30 Day Trial!
Everything you're looking for is here:
Shop Amazon's New Kindle Fire
Everything you're looking for is here: