The Simpsons Treehouse of Horror XIX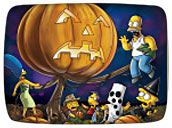 Dig deep into to your stash of mini-candy bars and Smarties as TV's most anticipated Halloween tradition returns. The Simpsons Treehouse of Horror XIX airs on Fox November 2nd but does it measure up to the phenomenal Treehouse specials of years past? You bet! It's another winning animated anthology of EC Comics style fun, a monster mashup sure to scare up gales of laughter and howls of hilarity.
The eerie affair begins with Homer attempting to vote for President with horrific results in a story inspired by actual chilling incidents. Then, Bart's Christmas present to Lisa sparks an intergalactic incident in a farcical twist on the Transformers movie.
In a wry parody of Mad Men ('How to Get Ahead in Dead-Vertising'), Homer accidentally kills Krusty and discovers there's money to be made exploiting his image; that leads to an angry army of spirits descending from heaven to put a stop to celebrity impersonators.
The very funny finale is a spot on satire of the venerable Charlie Brown holiday specials with Millhouse waiting in the pumpkin patch for the Grand Pumpkin. Too bad he actually shows up and spoils everyone's Thanksgiving. Or something like that. Wait until you see The Simpsons cast as the Peanuts gang. Classic!
The Simpsons may be losing steam and beginning a slow wind down but Treehouse of Horror still crackles and pops with all the hilarity and ingenuity you expect. Too bad this isn't a weekly series by itself.
Don't miss this Fox Sunday treat on November 2nd at 9:00pm ET/PT.
---