Reviews of the newest DVD collections
of your favorite classic TV shows!
Click on the title to order - huge discounts and free shipping through Amazon.com!

---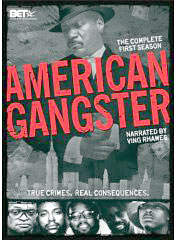 American Gangster - The Complete First Season
I didn't just watch this thrilling series, I devoured it, watching all 6 episodes at a sitting. It's that good.
These compelling documentaries (contained on two discs) are powerfully riveting, a fascinating glimpse into the underworld of gangs and drug thugs that will have you bug eyed and thanking the gods that you didn't live in the vicinity of these modern day street warriors.
You'll find the sweeping stories of legendary African-American gangstas, thieves and drug slingers like Stanley "Tookie" Williams, the Chamber Brothers, Lorenzo "Fat Cat" Nichols, Dino & Troy Smith and Leroy "Nicky" Barnes among others, told through interviews with the surviving perps, family members and associates. Many of these interviews take place in prison - for obvious reasons.
When I lived in LA I had friends who were in the gangs and they were great guys with loads of heart. They weren't drug dealers or involved in some of the worst activity, at least I suspect they weren't, they didn't talk much about the details, obviously. That's what this show does so well - it doesn't lionize these guys but reveals in rich detail the complexity behind these real people that got caught up in events (largely of their own making) that spiraled out of control.
Narrated by Ving Rhames, there's a film starring Denzel Washington loosely based on this series coming to theaters this fall.
There are some bonus extended interviews including more from the talk with Crips co-founder "Tookie" Williams included in this new DVD release.
Not to be missed!
---
TV on DVD Reviews: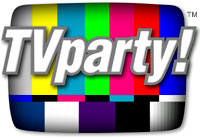 TVparty! for TV on DVD!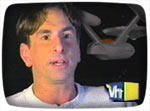 Reviews by Billy Ingram,
as seen on VH1, Trio and Bravo.
On BRAVO'S 100 Funniest Movies this month!




Carol Burnett Show on DVD
| | |
| --- | --- |
| FEATURES YOU MIGHT ENJOY: | |
---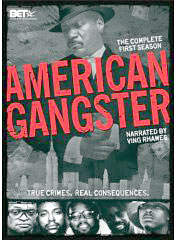 American Gangster - The Complete First Season

Studio: Paramount Home Video
DVD Release Date: October 23, 2007
Run Time: 180 minutes

Product Description:
AMERICAN GANGSTER is BET's critically acclaimed, highly rated crime docu-series that explores the historical, socio-economic and political context surrounding the rise and fall of 9 notorious African-American criminal minds. These are not just your two-bit hustlers…One modeled his organization after the management structure of General Motors. Another studied gemology to be well versed and blend in among an elite audience of jewelers and high end collectors. Another was nominated for the Nobel Peace Prize and the Nobel Prize in Literature for children's books before he was eventually executed. What was the catalyst for their life of crime? How does their story begin and end? This groundbreaking series digs deeper to answer these and other poignant questions
Everything you're looking for is here: