Reviews of the newest DVD collections
of your favorite classic TV shows!
Click on the title to order - huge discounts and free shipping through Amazon.com!

---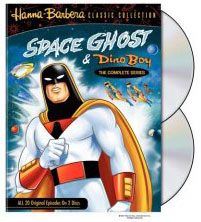 SPACE GHOST
What a wonderful DVD collection this is. And I'm not referring to the cartoons themselves, although they are terrific. I grew up on this stuff, those mid-sixties Hanna-Barbera superhero cartoons were the most exciting things I'd ever seen as a comic book addicted kid.
No, this new release towers above the rest because of the amazing bonus feature - an hour and 17 minute long documentary on the life of Alex Toth that is EASILY worth the price of admission alone.
In it, you'll see samples from the book we produced, Dear John: the Alex Toth Doodle Book, and the tome's subject (TVparty contributor) John Hitchcock is interviewed in the film along with some major names in the comic book and animation field. This lavishly produced documentary traces Toth's entire life, a stirring, inspiring and emotionally moving look at this enigmatic artist.
It's the finest documentary I've seen with a TV on DVD release, surprisingly thorough and richly illustrated with examples of his work, a fitting tribute to a towering talent.
As for the cartons themselves - Warners has done a great job of restoring the shows to a previously unseen crispness, looking better than they did when they first aired. No one designed crazy, bug-eyed aliens like Alex Toth (see also Josie & the Pussycats in Outer Space) and Space Ghost is a Toth designed tour de force.
The one criticism I have is the box art - the illustrations don't capture the essence or spirit of the original character designs by Alex Toth. It's a natural tendency to modernize but everything looks too rounded and cuddly. But that's a minor thing.
Round up the kids - or shut them outside - and enjoy this one with a bowl of Froot Loops.
All 20 episodes from the original 1966 run are here on two discs. Another Toth H-B classic Birdman & the Galaxy Trio is coming soon to DVD.
---
TV on DVD Reviews: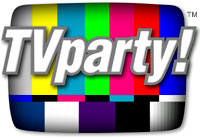 TVparty! for TV on DVD!
TV Shows on DVD
Holiday Specials on DVD
TV Commercials on DVD
Amazon Prime - unlimited streaming
of your fave TV shows and movies!
Get your FREE 30 Day Trial!
Everything you're looking for is here: