WATCH OUT FOR THAT TREE!
The new George of the Jungle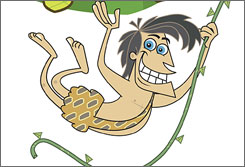 One of the greatest cartoons created for television in the 1960s was George of the Jungle from the folks who brought us Bullwinkle. George was funny and smart in the Jay Ward Productions' tradition but lasted only one season of new episodes.
Now George of the Jungle is back in a new production headed by Jay Ward's daughter for Comedy Central's new nighttime schedule for kids. I just watched the first two episodes which debut beginning next Friday night.
Of course, everything's been pleasingly redesigned to fit the modern sensibility (John K. changed everything, didn't he?) while the iconic theme song remains - with minor changes. It's wacky and weird like the original, but kids today are used to what was considered cutting edge 41 years ago - audience asides, random pop culture references - so the new George and his animal cohorts are more extreme in their behavior while the storylines are more straightforward.
The new George is a teenager - as is everyone in this jungle, naturally - and bears little resemblance to the 1960's version. George is also saddled with a Betty / Veronica-type sidekick conflict.
While the original George of the Jungle could be enjoyed by adults and kids alike this new incarnation is strictly for the youngsters in the spirit of The Fairly Odd Parents and the like. Anyone over the age of 11 won't find much of interest here.
That said, this Flash animation production is plenty cute and should prove popular with the young ones. Purists won't be pleased but that's OK - the original still stands and probably couldn't be topped or duplicated anyway.
Visit georgeofthejungle.tv and cartoonnetwork.com for more info. George of the Jungle airs Friday nights starting January 18 at 7:30pm (ET/PT).