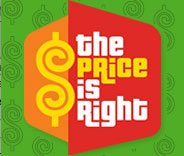 LIVE BLOGGING THE PRICE IS RIGHT WITH DREW CAREY
I confess I haven't watched The Price Is Right very often over the last decade. I enjoyed it as a kid when it debuted in 1972 and watched it for a period during 1994 - 1995 as it coincided with the time I took to eat lunch. I remember watching TPIR when the news broke that the federal building in Oklahoma City had been blown up.
I would flip it on two or three times a year after that but I've tried to turn it on every once in a while over the last couple of months just because a 35 year TV tradition was coming to an end, no more Bob Barker at 11:00am on CBS.
True, it was time to retire. Bob was getting awfully frail and was justifiably terrified of the more effusive winners. On his very last show the camera went to Bob at an inopportune moment, as he was trying to keep some woman from getting too close; you could see the abject fear and revulsion in his eyes.
So, because I have nothing better to do, I'm going to live blog the first episode of Drew Carey's Price Is Right.
Carey was on The Early Show this morning on CBS, via phone, and didn't have much to say about TPIR but did announce he's getting married. It was one of the most low-energy interviews ever heard on TV.
I wrote some time ago that, if a person was magically transported from 1972, The Price Is Right would be one of the only shows that he or she would recognize. Meet the Press would be another. The Today show, Tonight and all the other programs on the air in 1972 have changed so much, even the Soap Operas have radically changed, they're steamier with much younger casts.
TPIR, on the other hand, still had the same host, some of the same games, and much the same set designs. Just how much is CBS willing to change TPIR with the new host?
Monday, October 15, 2007 - 10:12am
WOULD YOU LIKE TO RESPOND?
The Price Is Right is the only network daytime show where people are seen in a positive light having fun, in a state of euphoria rather than angry, sick or agitated. The excitement is established from the very start and that's where the announcer is key. That's why Rich Fields really was the perfect choice to replace Rod Roddy when he died in 2003. Fields reminds me of Johnny Olsen, the original (1972) announcer mixed with just enough Rod Roddy. You may recall that Rod Roddy always got one closeup per show (until he got sick) but for some reason that didn't apply to Rich Fields, he would instead come onscreen after his announcing duties were done ("This has been a Mark Goodman presentation") and could be seen - barely - behind the credits during the show's last few seconds, entering from the right. Think they'll throw the guy a bone and give Rich Fields a close-up?
There's a new show logo, the entire set has been done over in a retro 1970's style and it looks great, less garish than before. The colors are coordinated instead of all over the place as before. I always felt the show's designs were stuck in the late-1980s.
Monday, October 15, 2007 - 11:02am
WOULD YOU LIKE TO RESPOND?
The audience is wildly enthusiastic. Drew seems to want to be chummy with the contestants, saying hello to everyone, calling everyone "buddy." He's a bit nervous but that's to be expected, I think his relaxed style will win the day. The first contestant won a Jeep playing that game where you pick the first and last two numbers in the price.
Monday, October 15, 2007 - 11:05am
WOULD YOU LIKE TO RESPOND?
That's a motley looking crew in contestant's row. The next game was 'Cliffhanger,' you know, where the little guy yodels his way over the cliff if you miss the prices too much. The contestant won a trip to Bali. There's a model named Fire (actually Phire) on the show?!? Isn't that a stripper name? I still miss Janice Pennington. Will the 'lovely Lanicia' be back?
Monday, October 15, 2007 - 11:10am
WOULD YOU LIKE TO RESPOND?
There's a new overhead camera that they seem to have trouble getting good shots with. The next game was 'In The Bag' where the contestant matches prices to products to win $16,000. Drew is a lot less defferential to the contestants than Bob when it comes to playing the games. The contestant won the big money and she nearly fainted.
Monday, October 15, 2007 - 11:21am
WOULD YOU LIKE TO RESPOND?
The first 'Showcase Showdown' goes down smoothly enough, the very first spin wins a $1,000 by hitting the $1.00. Drew's on a winning streak so far. That really is a sharp new logo for the show.
Monday, October 15, 2007 - 11:24am
WOULD YOU LIKE TO RESPOND?

Here's a look at the new set from the CBS web site. The new logo is very close the the original 1970's version.
The next game is '1-2-3' - a simple game of placing 3 blocks in front of prizes. There's the beautiful Fire again! And another winner.
Monday, October 15, 2007 - 11:31am
WOULD YOU LIKE TO RESPOND?
Next up a Sorority girl wins a new car playing 'One Way' where Drew asks her to say, "Oh mighty sound effects person, do I have at least one number right?" With Bob it was always, "Ladies, do I have at least one number right?"
Monday, October 15, 2007 - 11:39am
WOULD YOU LIKE TO RESPOND?
The contestant guesses which of 2 prizes is the bigger bargain and it's another winner! Lots of simple games on this episode. The game is still called 'Barker's Bargains' - Drew says it's named after the founder of The Price Is Right, Ezekiel Barker. The 77th perfect show for TPIR, where every contestant won.
Monday, October 15, 2007 - 11:43am
WOULD YOU LIKE TO RESPOND?
'Showcase Showdown' number 2 and the Sorority girl (her name is Amor) hits $1.00 for an extra $1,000 and moves on to the Showcase round. It really is a perfect show. A good omen for Drew?
Monday, October 15, 2007 - 11:49am
WOULD YOU LIKE TO RESPOND?
The Sorority girl beat out a housewife and won a hot tub, a big screen TV and a trailer - boy, will she be popular back at school. The theme music sounds slightly different, that's because it's now in stereo for the first time.
The show is no longer a Mark Goodson production but a Freemantle Media production (Freemantle bought out Goodson years ago). No sign of Rich Fields, no closeup or walk on. It's said that it's against FremantleMedia's company policy for announcers to appear on camera but that sounds silly. Rich Fields once stated it was up to Bob Barker whether the announcer was seen.
The torch has been passed and I think the Drew Carey will settle into his role fairly soon. He's a bit awkward now, looking for ways to connect but the game is very fast paced and it will take time to get into the rhythm.
If Drew is successful, he could have a hit in daytime and primetime - The Power of Ten was a winner this last summer for CBS. Peace out!
Monday, October 15, 2007 - 11:57am
WOULD YOU LIKE TO RESPOND?
---
Drew's a hit - on the second episode (taped the same day as the first) the pumped up audience was chanting his name like they used to do for Arsenio. A Dodge Viper, the 5th most expensive prize in the show's history, was up for grabs but not won and a highly excited woman that got up to play Plinko asked if she could go to the bathroom first, a moment destined to end up on a 'best of' show.

Announcer Rich Fields did walk on at the end of the 2nd show. I get the feeling that Drew may give him more of an opportunity to expand his role, make Fields more of an unseen sidekick perhaps?

UPDATE: By the first episode of the second week Drew already seems to have relaxed into the role and is successfully remolding the show to his personality while remaining true to the format. In fact, it's a much better show and much funnier than it's been in decades! "The happiest hour on TV" indeed.

The lovely Lanitia is back and we're seeing a lot of shots showing what the production looks like behind the scenes, giving TPIR a looser feel.

For more go to the Price Is Right web site!

Rich Fields' warm up for TPIR
---
---