Hell's Kitchen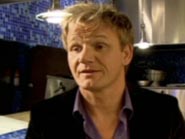 Hell's Kitchen fires up for a fourth season and, after a clever opening twist, serves up a mess of ruthless, feckless food divas to vie for the opportunity to become executive chef at Chef Ramsay's new upscale restaurant in Los Angeles.
The incredibly acerbic superstar Chef has turned the heat up this season, watching this program is like reliving your worst day at the most horrible job ever. I've actually worked in environments like this, as an artist, so it's cathartic in a way to observe from afar Ramsay's screaming and yelling fits tempered with his patented faux outrage.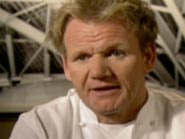 If you haven't seen Hell's Kitchen, it's an elimination contest; for episode one it's the mostly misogynous males vs the contentious females and both teams take a humiliating verbal beating while Chef Ramsay flings dishes into the air and viciously lashes out at everyone in sight. Why anyone would actually want to subject themselves to this kind of behavior is beyond me but I love watching the chaos that ensues.
You simply won't believe what some of these so-called professional chefs offer up when asked to prepare their signature dishes. One disastrous combination plate sends Chef Ramsay barfing into a trash can - and wait until you see another contestant's Cornish Hen stuffed in a pumpkin.
Hell's Kitchen is gotcha TV at its best, it works so well because of Ramsay's saucy expletives, his horribly degrading putdowns. Like all 'reality' shows there's a healthy measure of artificial drama to compliment the extra crispy editing but, with some interesting characters to work with, Hell's Kitchen should dish out plenty of entertaining moments this season.
Hell's Kitchen is an actual working restaurant, at least while the program is in production, wouldn't it be great to eat there sometime if only for the theater? Not that the patrons on show one got much food, most of it ended up in the trash or on the wall.
It's interesting to note how much more patient and respectful Chef Ramsay is on the British version of Kitchen Nightmares, another program he's successfully transplanted on Fox. The gloves are off on Hell's Kitchen; he refers to one contestant as a "toilet brush," another is called a "donkey," while everyone is deemed, "useless f*cking pieces of sh*t."
With this series and the even better Kitchen Nightmares, Chef Ramsay has positioned himself as one of America's most incandescent personalities with two of the best 'reality' shows on TV today.
Hell's Kitchen returns April 1st at 9:00pm ET / CT on FOX.
---
ON AIR: Tuesdays
ORIGINATION: Los Angeles, CA
CONCEPT: An unscripted culinary boot camp that features the drama of wannabe Cordon Bleu cooks and aspiring restaurateurs competing for world-renowned Chef Gordon Ramsay's approval and the chance to become America's next culinary star.
SEASON PREMIERE: April 1, 2007
SEASON FINALE: TBD
SERIES PREMIERE: May 30, 2005
STARRING: Gordon Ramsay, head chef
Scott Leibfried, sous chef
Gloria Felix, sous chef
Jean-Philippe Susilovic, Maitre'D
PRODUCED BY: A Granada America production in association with A. Smith and Co.
---
---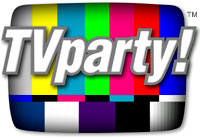 New TV Show Reviews
Reviewed by Billy Ingram,
as seen on VH1, Trio and Bravo.
Auto huren makes it possible to compare all car rental companies all over the world!
Compare the top sellers of Instagram followers on Buy instagram followers reviews!
An overwiew of guides and gutscheincode with the best tips and tricks to save money! on Ebookers.
HELL'S KITCHEN
(Tuesdays, 9:00-10:00 PM ET/PT)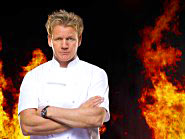 World-renowned chef GORDON RAMSAY is back for a fourth course of the sizzling unscripted series HELL'S KITCHEN.
Wannabe restaurateurs slice and dice their way through each episode, vying for Ramsay's attention in hopes of winning a life-changing culinary prize.
The intensity heats up each week as the ambitious hopefuls try to prove they have what it takes to run their own restaurant. Ramsay weeds out the bad apples, keeping only those who possess the right combination of ingredients to ensure success. Ramsay's sharp tongue and the contestants' inexperience could be a recipe for disaster in this pressure-cooker environment. Only one thing is certain: If the contestants can't stand the heat, they'll have to get out of HELL'S KITCHEN.
Season Three of HELL'S KITCHEN, in which Rock Harper won the coveted title of Head Chef of a new fine Italian restaurant at the Green Valley Ranch Resort and Spa in Las Vegas, outpaced the previous season by +11% among Adults 18-49 and +3% in Adults 18-34, and was up +10% in Total Viewers this summer.
HELL'S KITCHEN is a Granada America production in association with A. Smith & Co. Arthur Smith, Kent Weed and Curt Northrup serve as executive producers.
Everything you're looking for is here:
Shop Amazon's New Kindle Fire