Rick Cleveland - My Buddy Bill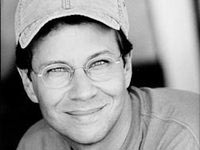 Rick Cleveland is a writer / producer for top TV shows like The West Wing and Six Feet Under, now he's turned his sharp wit to stand up comedy and knocks one out of the park with his new Comedy Central special, My Buddy Bill. His deliberate, stoic delivery stands in stark contrast to most modern comedians, this sly monologist spins a tale with marvelous twists and turns in the great storytelling tradition of Mark Twain or Bill Cosby.
This is not your common, everyday, rat-a-tat-tat comedian, Rick Cleveland takes his sweet time, his stories are a journey. In this special (based on his acclaimed one man stage show) he devotes the entire half hour to deconstructing his meetings with Bill and Hillary Clinton when they were in the White House. I don't want to spoil it for you by giving anything away but it is flat out hysterical.
Don't miss this terrific stand-up special, you'll laugh your way through the entire thing, especially if you miss the disclaimer at the beginning of the program as I did when I first saw it.
Rick Cleveland - My Buddy Bill airs on Comedy Central February 7th at Midnight.