THE ROOT OF ALL EVIL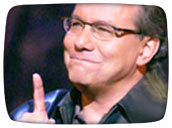 Comedy Central has launched so many hit shows in the last few years one could understand they might have a 'we can do no wrong' confidence. That may explain the shortcomings behind their latest entry, The Root of All Evil.
Stand up comic, author and Daily Show regular Lewis Black is the star of a new half-hour series that comes across like Bullshit! with Penn & Teller meets Judge Joe Brown. Yeah, I know...
The idea is that Black invites 2 guest comics (Greg Giraldo, Andy Kindler, Patton Oswalt and Paul F. Tompkins appear early on) to run down the supposed atrocities surrounding 2 pop culture subjects. For instance, on episode 1 it's the Catholic Church vs Oprah Winfrey, on episode 2 Donald Trump vs Viagra. Future episode tackle Beer vs Weed, Paris Hilton vs Dick Cheney, and You Tube vs Porn.
As standup lawyers, the comics make their case as to which of the two is more evil. At the end of the show Lewis Black renders his decision and wraps everything up.
Unfortunately, this unsatisfying program is overwritten and heavy handed, lacking the satirical bite and mounds of useful, obscure information that makes Bullshit! so compelling. The writers aren't finding the humor from the truth so much as ridiculing events and people, at least on the first couple of episodes. Truth, as Comedy Central has learned, is often more entertaining that joke setups; as a result, this program lacks the relevancy and immediacy of The Daily Show.
The producers are alumni of Real Time with Bill Maher and The Simpsons but The Root of All Evil comes off like a low rent knock off. The premise is too forced and limiting, the production is much sillier than the Daily / Colbert shows, that's for sure. If Lewis Black wants to be Judge Judy he should get an afternoon program, that I would watch.
In fact, I'm surprised a comedian as hot as Lewis Black would sign on to such a seriously flawed concept. I'm a big fan, he's easily up to the task of helming his own hit series, I'm just not sure this one is it.
That said, there are laughs to be had (like some funny and revealing interviews outside an inner city school on show 1) so perhaps the production just needs time to grow into whatever it's going to become.
The Root Of All Evil asirs Wednesday, March 12th at 10:30pm EST / PT.
---
---