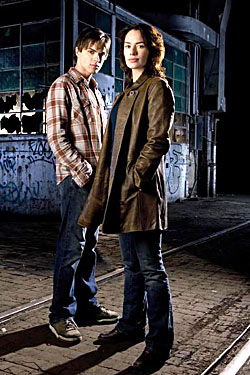 Terminator 90210
I've just seen the first two episodes of Terminator: The Sarah Connor Chronicles. I reviewed the pilot last summer, so I'll be blending in part of that review here, but it looks like they massaged the production a bit over the last few months and it's a more compelling drama for it.
The pilot, directed by David Nutter (Band of Brothers, Entourage) and written by Josh Friedman (War of the Worlds), is one red hot, rip-roaring, action packed, sci-fi adventure that crackles with excitement amid a relentless barrage of gunfire, fireballs, exploding police cruisers and tire screeching car chases.
This frenzied, adrenalin charged show is what The Bionic Woman should have been. In it, John Connor is a back to being a teenager; he and his responsibly paranoid mother Sarah are being chased all over the landscape by a killer robot from the future and present day government agents. You thought your mom was uptight!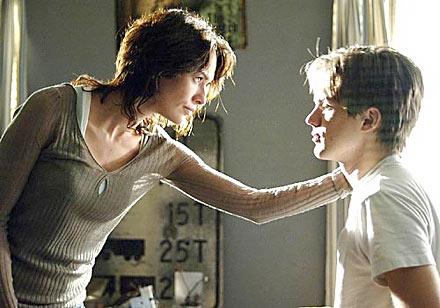 Fortunately for the Connors the Terminator sent to kill John is the kind of killing machine that will stop in the commission of its prime objective just to fire off a joke. Like after shooting up a high school science lab, the robot from the future halts his pursuit of John Connor long enough to look back, pause and tell the students - "Class dismissed." But then again, if the Terminator had foregone this all-too-understandable momentary pleasure, John Connor would have died in the first 20 minutes and there would be no series.
FOX had announced that school shooting scene would be reshot or recut, coming on the heels of the Virginia Tech shootings. Instead, they left everything in and it's a very effective scene. Since the series opens with a high school parking lot firefight, and Sarah seems determined to enroll John Connor in classes whenever they find a new home, expect to see a lot of violence on campus grounds.
It's also most fortunate for John Connor (but not so much for his mom) that the robot sent from the future to protect the teenager looks like a supermodel hottie, an adorable young nymphet with bionic lips and heavy metal hips that gets to thrash all the guys she wants.
One plot thread I really like involves Sarah's former lover played by Rescue Me's Dean Winters, who is pursuing Sarah for his own reasons. He's a commanding presence that I always enjoy watching (this role was played by another actor in the original version of the pilot).
To keep with the movie continuity this show starts out in 1999 then jumps ahead to September of 2007, which I assume meant the network originally planned to release this program earlier than January of 2008. That gave the production a tremendous lead time before the writer's strike. As a result, FOX has got a winner - a strong series with fresh episodes ready to air despite the walkout.
The production values are first rate as are the special effects. What at first seems like a gimmick to appease continuity freaks, the whole time travel element leads to some nice business. "9-11? What's that?"
The second episode, though it goes a bit mushy at the end, is as compelling as the first, leading me to think this one could go this distance. The premise is strong and time tested, all that's needed now are some superior scripts. Could happen, it's already better than T3.
Terminator: The Sarah Connor Chronicles replaces Prison Break on Monday nights at 9:00 ET/PT starting January 14th but the debut episode will be broadcast the night before, Sunday, January 13th at 8:00pm.
Overall, Terminator: The Sarah Connor Chronicles is one of the best shows this season, fans of Prison Break and the Terminator film series will not be disappointed.
Look for FOX to retain - or expand - it's hold on Monday nights.
REGULAR CAST:
Sarah Connor - Lena Headey
John Connor - Thomas Dekker
Cameron Phillips - Summer Glau
James Ellison - Richard T. Jones
Here are some sneak peeks:
---
---